Group bonding
Aquattitude offers a wide variety of outdoor activities such as canoeing, kayaking, rafting, standup paddle boarding, hiking, orienteering or biking designed for corporate team building events, bachelor(ette) or birthday parties, leisure centres , or sports clubs.
If you need to organise group events in the Verdon area, Aquattitude will take you to the magnificent protected wildlife reserves of the Verdon Gorges.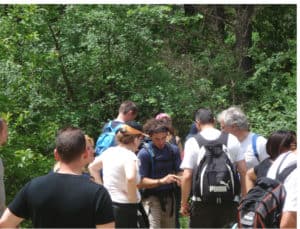 Over the years, we have established a network of contacts relating to outdoor activities and we will be able to assist and advise you on any kind of nature outings. We can also offer help to set up and plan your stay by putting you in touch with our lodging and meals partners in the Verdon area.

Our main objective is to strive to offer you made-to-measure solutions adapted to
your goals and purposes :
Team bonding, encouraging collaboration and teamwork. fun activities in a wonderful natural setting your needs : technical training, orienteering, sporting tournaments, adventure racing, challenging thrill seeking or fun and friendly activities, immersing in natural lanscapes, environmental learning related to fauna, flora, geology, history, cultural, human, or the hydro-electric resources of the river.
group bonding goals for families or relatives, teams of adults, teenagers, children or athletes.
Please contact us for further detail and personal quotation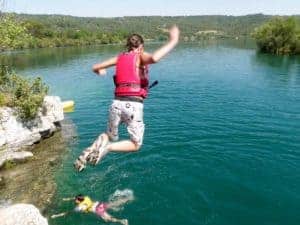 If you're looking for the perfect idea for a group outing, team building activity or other corporate events, we can set up any type of nature adventure sport challenges in the Verdon Gorges.
When people share a new experience, or work together in order to solve a problem or overcome an adventure sport challenge, teamwork is fostered and relationships are built through civic-minded attitude, self-commitment, mutual respect and voluntary effort to push yourself to new heights.
Whatever team activity you choose, all participants will find an inspiring way to cooperate and help each other bridle physical challenges in a succession of competitive events throughout the day.
You can either choose to go mountain or trial biking, running, kayaking, rafting, rock or via cordata climbing, zip-line riding, doing forest adventure courses, orienteering or to engage into less physical activities such as solving puzzles, memory games, tug of war contests, knots games, equilibrium and skill trails, crossbow shooting and so on.
We can also offer activities combining nature adventure sports together with the Verdon Gorges cultural heritage through an outdoor scavenger hunt which will challenge players to solve enigmas, find clues and ask local people questions so as to live an exhilarating human experience while discovering the region.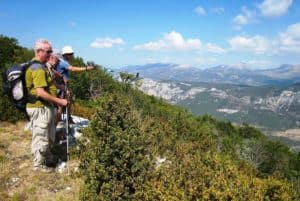 Pour des Séminaires d'entreprise, nous pouvons mettre en place des Raids multisports par équipe dans les gorges du Verdon (course d'orientation à pied, à VTT, en canoë kayak…)
La pratique des sports d'aventure permet de développer des valeurs telles que l'esprit de civisme, la volonté d'engagement de soi, le respect de l'autre et  l'effort  volontaire.
Nous sommes convaincus que le sport permet aux personnes à se dépasser. Quel que soit l'activité, par équipe, les participants se défient au cours d'épreuves sportives enchaînées pendant toute la journée. L'effort physique est fédérateur et motivant pour les participants.
Les disciplines proposées sont : VTT, Course, rafting, Escalade, Canoë kayak, Marche d'orientation, , VTT Trial, via cordata, tyrolienne, Parcours aventure en forêt …
… mais aussi des ateliers pour les moins sportifs (jeux d'énigmes, jeux de nœud à reproduire, jeux de mémoire, tir à la corde, parcours d'habilité et d'équilibre, tir à l'arbalète, …)
Il nous est aussi possible de vous proposer des prestations alliant l'aspect sportif et nature
avec l'aspect découverte culturelle du patrimoine du site prestigieux des gorges du Verdon par le biais de chasse aux trésors sur le territoire (avec des énigmes et des indices à retrouver, des personnes à questionner…) une vraie aventure humaine et de découverte de la région .
Au cours de nos prestations, notre but est de susciter l'esprit d'équipe, la motivation, de partager un moment intense ensemble, d'oser découvrir de nouvelle sensations et pourquoi pas susciter de nouvelles passions…
Grace à ces temps forts partagés ensemble, les membres d'une entreprise en ressortent riche de souvenirs,  de nouvelles compétences révélées chez certaines personnes, un esprit d'équipe renforcé et une volonté de travailler ensemble en se comprenant d'avantage.
La devise d'Aquattitude se résume en quelques mots :
« Ressentir la Nature, vivre une aventure »
Car dans toutes les activités que l'on propose, on se trouve au cœur du milieu naturel et parce que avant tout, c'est une aventure humaine que l'on va vivre ensemble …